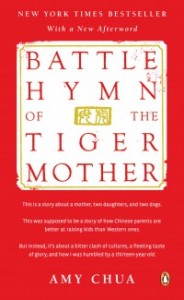 A new study looks at whether tiger parenting as popularized by Amy Chua's book, "Battle Hymn of the Tiger Mother" really works.
The Atlantic reports the new study in the Asian American Journal of Psychology found most Chinese American families don't practice tiger parenting.
On top of that, such parenting simply doesn't work.
Children of tiger moms actually had lower grades than children with supportive parents.  So anyone pushing your children to the edge in the hopes that it will motivate them to succeed may want to think twice. The study found robbing kids of their childhood rather than nurturing them could actually backfire.
What do you think? Did you read Amy Chua's book? What reaction do you have to the study?