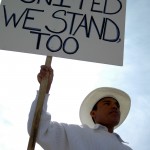 As the Senate and the House are gearing up to introduce immigration legislation next week, the Asian American community continues to fight for immigration reform.
"Any immigration reform package must include the perspectives of the Asian American and Pacific Islander (AAPI) community," said Rep. Judy Chu (D-CA), Chair of the Congressional Asian Pacific American Caucus (CAPAC).
"As the single largest group of new immigrants to this country and as a group disproportionately impacted by our nation's immigration backlogs, AAPIs have a major stake in the current debate."
Nearly 60% of the immigrants in the Asian American and Pacific Islander community were born outside the United States.
Congress is currently considering cutting back on the number of family visas while increasing the number of visas for skilled and educated workers.
Read more of the story here.