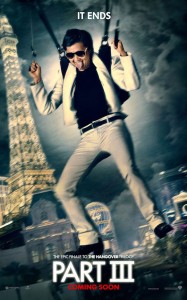 Ken Jeong returns as Mr. Chow in the third sequel of the comedy movie Hangover. The obnoxious gangster is featured on the just released Hangover movie poster parachuting into Las Vegas next to the Eiffel Tower at the Paris Hotel.
This movie is expected to be filmmaker Todd Phillips' last in the hangover series starring Zach Galifianakis, recent Oscar nominee Bradley Cooper and Ed Helms from "The Office". The three goofy pals just can't seem to stop getting into trouble.
The movie hits the theaters on May 24.
You can watch the official trailer here.