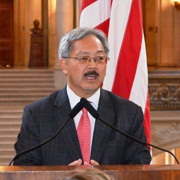 During a recent 10-day trip to China, San Francisco Mayor Ed Lee met with China's vice president Li Yuanchao, talked to students at Tsinghua University about technology innovation, and also visited his father's old village.
The funding for his trip came through the Chinese Chamber of Commerce and has sparked complaints from critics, blasting that funding as "dubious or potentially illegal," reported the City Insider column in  SFGate.
However, Lee's office argued that the mayor "did everything openly and by the book."
State law prohibits government officials from accepting gifts of more than $440 a year from any single source.
The Chamber collected gifts of $440 dollars from 41 individuals and companies.
Three complaints have been filed either the city's Ethics Commission or the state Fair Political Practices Commission over the trip
"We publicly disclosed in great detail the purpose of the trip and those who contributed to it," said Lee's spokesperson Christine Falvey. "We've exceeded reporting requirements in the spirit of transparency. People know exactly why he's going and who he's traveling with."
The tab for Lee's trip through Hong Kong, Beijing, Guangzhou, Taishan and Macau was listed at nearly $12,000, according to disclosure documents the mayor filed at the Ethics Commission.
Read more of the story here.