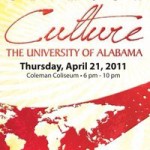 More organizations  representing the diversity of the University of Alabama are being organized in response to the increasing number of students coming from different ethnic backgrounds according to the Crimson White
The South Asian Society meets weekly to recognize and celebrate the cultural, religious and linguistic diversity of South Asia. The group is open to all students.
"It brings a taste of diversity to the campus and helps people become more aware of South Asian countries and cultures, while being able to enjoy cultural food, music and dances," said Okha Patel, the organization founder. "Everyone can join; we have over 100 students."
Okha Patel, a senior majoring in international studies, founded The South Asian Society last spring.
Read more of the story here.