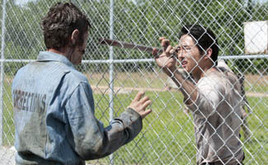 This is the season of the hot Asian American male on TV, according to Hyphen Magazine and columnist Theresa Celebran Jones.
Wow, are there really three? Not sure if anyone's been able to say that ever. Not that there aren't hot Asian American men out there. It's that those men can't get cast in meaty roles on TV or the big screen. Well, maybe at least until now.
But this article is about television. These are Jones' top 3 hot Asian American men in the 2012-2013 television season.
Number one is Steve Yeun as Glenn (pictured here) in the cult hit, Walking Dead on AMC.  As Jones puts it, "this is the first time a hot, rugged Korean dude got to be a hero on a wildly popular drama." Hey, that's enough to make him number one.
Number two on Jone's hunk parade is a show you may not have seen. It's ABC's Neighbor, a show about a neighborhood full of  aliens and their new human neighbors.
Tim Jo plays a teenage alien who develops a love interest with his human neighbor.  As Jones puts it, "Reggie brought a refreshing and much-needed brand of sexy to television."
Number three is, well you'll just have to read it in Hyphen Magazine. Then let us know what you think of the list.