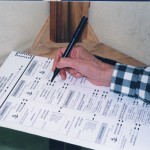 Republicans have an Asian American problem, reports USA Today.
The party says it will spend $10 million dollars in the hopes of fixing it. And they have a lot of fixing to do. More than 7 out of ten Asian Americans voted for Barack Obama during the last presidential election.
That's even more amazing when you consider that just 20 years ago, Asian American voted overwhelmingly Republican.
A closer look shows Republicans have reason for both optimism and pessimism. Exit polls find that Asian Americans don't strongly identify as Democratic. But those same survey show Asian Americans support an activist government.
"It sounds like they're persuadable," says Karthick Ramakrishnan, director of the National Asian-American Survey. "But it also means they're paying a lot of attention to issues."
Can Republicans align with Asian American voters on those issues?  It's hard to say because Republicans have never bothered to find out. The GOP says its time to change that.
"The party as a whole has ignored two communities almost completely, Asian Americans and African Americans,"  says Texas GOP chair Steve Munisteri . "Until we go into those communities and try to sell our platform and sell our candidates, we can't jump to the conclusion that it's a policy issue."
You can read more about the Republican strategy of winning over the Asian American vote in USA Today.