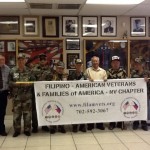 The Philippine Embassy is urging Filipino Americans to write letters to the White House demanding recognition of the contribution of Filipino American veterans during World War II.
Their plea comes after marking the 71st anniversary of the Fall of Bataan earlier this week, reports the Latino Times.
The claims of 4,000 Filipino veterans who appealed benefit denials were summarily denied because their names were not on the list kept by US Armed Forces of the Far East (USAFFE).
"The Fall of Bataan is considered one of the darkest moments in our nation's history," said Philippine Ambassador Jose Cuisa, Jr. "We recognize the injustice done to those who have been denied because of documentary requirements and we will continue to press the relevant US government officials to clarify the procedures in certifying claims and to assist our veterans who are appealing."
They are urging President Obama President Obama to issue an executive order granting federal benefits to Filipinos who fought for the United States during World War II.