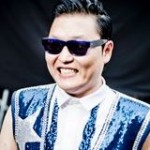 K-Pop You Tube sensation Psy has generated 10 million views of his new single Gentleman in less than 16 hours.
The Korean worldwide sensation tweeted at about 12:30 a.m. Eastern/9:30 p.m. Pacific:
OheMGee!!!!!!! 10mil views in 16 hours!!! PSY – GENTLEMAN M/V:
USA Today reports Psy released the new single last night in 119 countries and performed it live for the first time before 50,000 fans in Seoul. He also commented on the growing world tensions surrounding North Korea's threat to fire a nuclear missile in a way only perhaps Psy could do.
He invited North Korea to share in his music's "fun and happiness."
You can read to the reaction from concert-goers to Psy's new single Gentleman in the USA Today .
You can see the video of the new single in Hollywood.