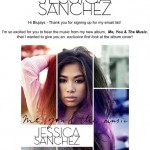 The next few weeks will be a whirlwind for American Idol runner up Jessica Sanchez. Her debut album comes out April 30th, but she's released a 16 minute preview of her album.
About.com reports the album is heavy on the R&B and contemporary dance pop. Me, You and the Music will feature duets with Ne-Yo, Stargate and Benny Bennassi.
She will also play a diva from a rival high school on Glee on the season finale on May 9th and one other episode. Various reports say her debut on Glee is scheduled for May 2, but other reports indicate its been moved up to April 25th.
You can get a link to the preview of Sanchez' new album on About.com.