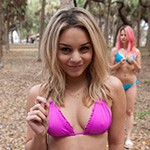 The duo actresses in Spring Breakers have been invited to party with Huge Hefner at the Playboy Mansion, according to Contactmusic.com. Former Disney stars Vanessa Hudgens & Selena Gomez have shed their good girl images in the movie of a vulgar group of college students. Apparently the bosses at Playboy were impressed at their performance.
A tweet from Playboy said, "@VanessaHudgens & @SelenaGomez now have an open invitation to the next Mansion party."
Read more of the story here.