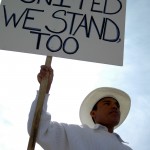 The momentum for immigration reform now sweeping the country has been caused by a number of factors ranging from a backlash against anti-immigrant sentiment to the growing population of Hispanics and Asian Americans which has lead to a shift in the electorate, according to an analyst from the Center for American Progress published in the Tucson Sentinel.
It began with California in 1994 when then Governor Pete Wilson jumped on the anti-immigrant bandwagon and cut off all public services to undocumented immigrants with the passage of Proposition 187.  That referendum was eventually overturned by the courts, but  its passage awoke a sleeping giant of Latino voters. Not a single Republican was elected to statewide office after that until Governor Schwarzenegger won in 2003.
The swing states of Florida, Colorado, Nevada and Virginia have all moved Democratic due in large part to  their emerging immigrant populations
Texas, Georgia, North Carolina and Arizona remain red states, but they could go the way of Florida, Colorado, Nevada & Virginia.
You can read a closer analysis and more on the reasons behind this shift in the Tucson Sentinel