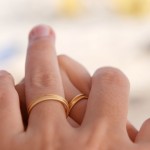 E Online is reporting that an upcoming episode of Glee will feature a marriage proposal by one of the regular cast members, according to Cambio.
If you don't like spoilers you won't want to read this article.
There's a very surprising development in the works on Glee.
It'll be interesting to see how fans react.
According to E, Blaine as played by Darren Criss is going to propose to his on and  off again boyfriend, Kurt, as played by Chris Colfer.
The two technically aren't even dating anymore since the couple broke up after Blaine cheated on Kurt.
No word yet on what the answer will be. Blaine discusses his upcoming proposal with the sales lady at the jewelry store.
The sales lady and her girlfriends are played by two television icons. More on that and the Blaine proposal in Cambio.