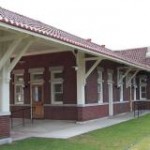 Actor George Takei today emceed the celebration marking the opening of a museum in Arkansas (pictured here) dedicated to preserving the memory of two incarceration camps, reports the Saline River Chronicle.
More than 17,000 Japanese Americans were sent to Jerome and Rohwer during World War II, including Takei's family when he was just five-years old.
"I was too innocent to understand what that experience meant," said Takei about his time at Rohwer. "To my parents it was intimidating and infuriating. I could see the barbed wire fence outside my tarpaper barracked schoolhouse window, as I would say 'with liberty and justice for all.'
"My father said, 'our democracy is a people's democracy and can be as good as people are or as fallible as people are.'"
The Rohwer site includes only the Japanese American cemetery and the remains of the camp's hospital smokestack.
The exhibit, "Against Their Will:  The Japanese American Experience in World War II Arkansas," will be maintained by Desha County.
You can read more about the Museum in the Saline River Chronicle.