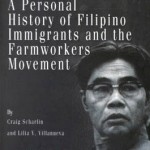 The New Haven School Board in Union City east of San Jose has voted to rename a middle school in honor of Filipino American labor leaders Larry Iltliong and Philip Vera Cruz, reports Patch.
The Iltliong-Veracruz Middle School will be the first in the nation ever to be named after Filipino Americans.
The change will take place no earlier than the fall 2015 school term and not until funding is obtained. Community organizations have pledged to raise the $15,000 to cover the administrative costs of the name change.
The 3-2 vote in favor of the plan came despite concerns of costs, tradition and maintaining history at the now Alvarado Middle School.
Among those in support of the plan was the grandson of Cesar Chavez, who said his grandfather's legacy and the gains made in farm worker rights would not have been the same without the work of Itliong and Vera Cruz.  Both helped  toorganize the 1965 Delano Grape Strike.
You can read a lot more about the name change in Patch.
mmunity," Santos said. "We need to build it and make it stronger."