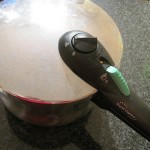 Pressure cooker bombs like the ones used in the Boston Marathon are common in many parts of West and South Asia, according to the Hindustan Times,
"This is not a device that Americans are familiar with," says Ajai Sahni of the South Asia Counterterrorism Portal.
Despite that, investigators are not yet ruling out that those behind the bombing may be from the United States.
They say instructions on how to build a pressure cooker bomb can be found on the internet. They also say US Military personnel stationed in Iraq & Afghanistan are all familiar with the bomb.
You can read more about pressure cooker bombs and how they have been used in the past in the Hindustan Times.