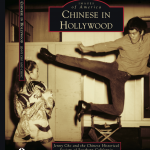 The long history of Chinese in Hollywood will finally be told in a new book by Jenny Cho of the Chinese Historical Society of Southern California, reports the Huffington Post.
A campaign on Indiegogo to raise money for the pictorial history has successfully raised the additional $3000 needed to publish.
The book will feature more than 180 images dating back almost 100 years.
"Although multiple generations of Chinese Americans live in the United States, we continue to be perceived as foreign or outsiders," wrote Cho. "Yet despite the negative stereotyping, there has been historically a desire among Chinese Americans to direct and produce films that are realistic to their experiences."
You can see a preview of some of the images selected for the book on the Huffington Post