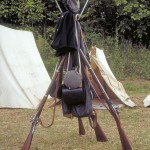 Little from American History is popularly known about the 50 Chinese Americans who fought in the American Civil War, reports Sampan.
The topic was part of a speaker's series at the Somverville Public Library near Boston.
"During the U.S. Civil War, China was also in a civil war. The Taiping Rebellion was gigantic, as over 20 million people were killed from 1850 to 1864," said Henry Jung of the group,Chinese Heroes of the American Civil War. "Famine and the rebellion were the impetus for the Chinese to emigrate."
Many adopted American names before enlisting. President Abraham Lincoln promised citizenship to them for fighting for the Union. But the promise remained unfulfilled after Lincoln was assassinated.
Joseph Pierce was the highest ranking Chinese American to fight in the Civil War, having reached the rank of corporal. It wasn't until 2008 when Congress granted Pierce and another Chinese American soldier, Edward Day Cohota, citizenship posthumously.
You can read a lot more about the Chinese American contributions to the Civil War in Sampan.