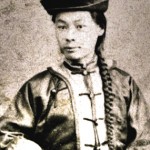 African Americans have Martin Luther King, Mexican Americans have Caesar Chavez. Who is the historical icon for Chinese Americans?
According to Bucknell Magazine, its Wong Chin Foo (1847–98).
Wong was the first person in the United States to use the word Chinese American. He published New York's first Chinese language newspaper, he organized Chinese voters and he's likely the first Chinese person to testify before Congress.
Wong was a defender of the Chinese American community. He challenged the notion that Chinese were Godless heathens. He was offended by reports from American Christian missionaries of the moral corruption they witnessed in China.  He gave a sarcastic speech where he played a Chinese missionary in the United States, and taught the virtues of Confucianism and Buddhism to Americans. He also offered to give $500 to anyone who could prove Chinese ate rats.
"I never knew that rats and dogs were good to eat until I learned it from Americans." he said.
You can read more about Wong's incredible story in Bucknell Magazine.