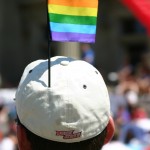 Students from several South Asian American and gay organizations at Harvard  staged a pretend same sex Hindu wedding on campus Sunday, reports the Harvard Crimson.
The ceremony was part of an annual diversity demonstration held by students. In the past, they say they've put on Hindu weddings, but this is the first time the wedding involved same sex partners.
"This idea that same-sex marriage is a new concept from the West is incorrect," said Nishin Nathwani, class of 2015, who coordinated the event.  Nathwani says same-sex relationships, have been included in many ancient Hindu texts.
The two brides in the ceremony both identify as queer.
"Kirin (Gupta) is bringing her South Asian into her queer. I'm bringing my South Asian into my queer," Sasanka N Jinadasa said.
You can read more about their ceremonial wedding in the Harvard Crimson.