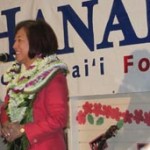 Politico is reporting Rep Colleen Hanabusa (D-Hawaii) is expected to announce she will challenge the man named to replace Senator Daniel Inouye after his death last year.
The appointment by Governor Neil Abercrombie of Brian Schatz came despite the wishes of Inouye who had made it known he wanted Hanabusa to replace him.
There's no word on when Hanabusa will make an announcement and a spokesperson for the Congresswoman could not be reached for comment.