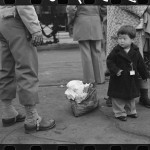 A campaign is underway calling on the US Supreme Court to repudiate its decision affirming the right of the government to round up Japanese Americans into concentration camps, reports the Salt Lake Tribune.
Such a repudiation of the Korematsu decision would be unprecedented, but the founder of the Earl Warren Bill of Rights Project at the University of California, San Diego says it is necessary.
Peter Irons contends the government buried information that there was no military necessity for the incarceration camps and accused the government of justifying its action with "records and arguments that were fabricated and fraudulent."
Instead a final report on the necessity of the concentration camps prepared by General John DeWitt claimed "The Japanese race is an enemy race and while many second- and third-generation Japanese born on United States soil, possessed of United States citizenship, have become 'Americanized,' the racial strains are undiluted."
Iron's campaign is especially timely given some of the rhetoric being espoused today about Muslim Americans.
You can read more about it in the Salt Lake Tribune.