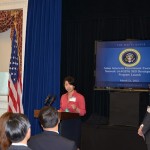 Asian Americans make up 50 percent of the work force in Silicon Valley, yet just 11 percent of management, according to statistics quoted in Asiance. In board rooms, their presence has actually declined to 8.3 percent, down from 8.8 percent.
Asian American women fear even worse, making up less than 1 percent of the executive ranks and board room. Compare that to at least 16 percent for women overall.
You can read more about efforts to reverse this in Asiance.