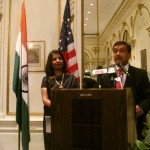 India's Ambassador to the United States is praising the efforts of Senator Robert Menendez, Democratic chairman of the senate foreign relations committee, in the immigration reform debate.
Menendez is  a member of the bipartisan Gang of Eight which earlier this month released its proposed Immigration Reform Bill.   Menendez has long supported high skilled immigration from India.
The Senator met with Ambassador Nirupama Rao(seen here on the right) earlier this week, according to the NY Daily News.
A statement from the India Embassy spoke positively about that meeting.
"They expressed appreciation for the strength provided to this partnership by the rich and vibrant contributions of the Indian American community in the United States." the statement read.