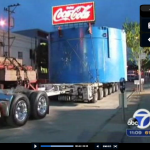 Two pieces of a giant 300 foot long drilling machine have arrived  to bore the tunnel for the San Francisco Chinatown Subway, reports ABC7.
The arrival proved to be quite a spectacle with one man driving 55 miles just to get a picture.
"I think it's out of this world, the size of these huge machines they use to make all these tunnels and all this new stuff is amazing," said Frank Ramirez.
The drill is said to weigh 120 tons. It will be lowered by a giant crane into the ground.
I've seen this stuff on TV, on History Channel and all that, but it is something to see up close," said business owner Mike Saverimuttu.
The job will take six years and cost $1.6 billion.
You can see video of this massive project on ABC7.