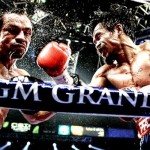 By the time Manny Pacquiao gets back into the ring, his fans will have waited almost a full year since his last fight December 8.
His next bout has already been postponed three times. The latest reports indicate his next fight won't be until November against either Mike Alvarado and Brandon Rios.
Any hope of a rematch with Juan Manuel Marquez ended when he announced he would be fighting Tim Bradley on September 14th.
According to the Digital Journal, Pacquiao said to his fans, "Don't worry, we will rise again," shortly after being knocked out by Marquez in December.
Pacquiao has never had to bounce back from two straight defeats as he will when he returns to the ring.
Leo Reyes in the Digital Journal asked in a recent blog if Pacquiao could keep his promise to his fans, could he rise again?
Reyes think the answer is yes, saying there are no signs the eight division champion has loss any of the speed and power that won him his championships.
You can read Reyes argument and learn about how trainer Freddie Roach plans to get Pacquiao ready for his next bout in the Digital Journal.