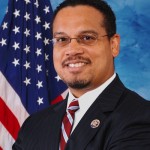 Muslim American Congressman Keith Ellison, (D-MN pictured here) challenged Rep Peter King (R-NY) call for more ethnic profiling today on Meet the Press, reports Think Progress.
King admitted that most Muslims were outstanding people, he repeated his assertion that the threat of terrorism stems from the Muslim people.
Ellison quickly countered such profiling undermines law enforcement by taking resources away from productive investigations.
The Minnesota Representative compared King's strategy to the incarceration of Japanese Americans during World War II.  He said terror investigations should be based on evidence and evidence alone.
The Republican dismissed such arguments as well as a follow up question by moderator David Gregory as political correctness.
You can read more about this debate on Think Progress and watch the exchange between King and Ellison on You Tube.