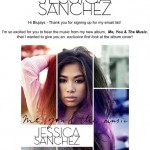 American Idol runner up Jessica Sanchez debut her first album today, You, Me and the Music.
The tracks represent a diversity of style that takes Sanchez beyond the ballads that she became known for on album.
The LP contains track with a who's who from the music world including Ne-Yo, Sia, Ester Dean and Toby Gad.
The Idolator gave her a respectable 3.5 stars out of 5 on her debut album.
"The record is strong enough to put Sanchez up against today's young, emerging pop vocalists," concluded the review in the Idolator.  "Sanchez has proved you don't need to win a singing competition to put out a winning album."
You can read the entire review in the  Idolator.