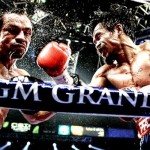 Much is known about Manny Pacquiao, the fighter. He's been described as pound for pound, one of the greatest boxers ever.
KTLA looked at his humble beginnings as part of its look at high profile Asian American and Pacific Islanders with LA connections.
According to KTLA, Pacquiao grew up on the streets of Kibawe – a small town in the Philippines.
His mother couldn't afford to support the family so he moved out of his home at age 14.
By age 16, he had won his first professional  bout in the ring against Edmund Ignacio.
He quickly captured the eye of the sporting world with victories over Oscar de la Hoya and 'Sugar' Shane Mosley.
"Manny is fearless and he'll fight anyone. It's so fun to watch him," said Jeremy Piven.
You can see video of Manny's home in Los Angeles and hear more about his remarkable career on
KTLA
.