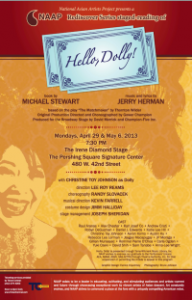 An all Asian American cast will take the stage for a production of Hello Dolly this weekend, reports the Asian Journal.
The show is a production of the National Asian Artist Project. The project was created four years ago to showcase Asian American performers and to cast them in productions producers would normally not even consider Asian American actors.
"We can do it, we don't have to change the dialogue. The actors are trained, we have incredible singers, we even have a choir. I think that we are here to stay," Baayork Lee  told the Asian Journal.
The show which wraps up May 6 for one last performance of a two show run stars Christine Toy Johnson.
"This is overwhelming. I've been in this business for a long time now, and all these years, we keep hearing from people 'Where's the Asian American talent?' We're here. Doing this now, it means the world to me," Johnson said. "I hope this staging will reinforce the visibility of the Asian American performers."
You can learn a lot more about the inspiration for this show in the Asian Journal. and see an interview about Hello Dolly on the website of the National Asian Artist Project.