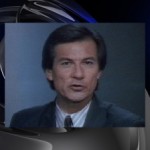 Los Angeles' first Asian American newscaster is dead at the age of 78, announced CBS LA
Mario Machado(pictured here courtesy CBS2) won eight emmy awards and was prominent in the nation's number two television market beginning in the 1960's.
He was born in Shanghai and is of Chinese and Portuguese descent.
According to CBS LA, Machado was the nation's first Chinese American newscaster.  He began at KHJ (now KCAL) in 1967, but became well known as a consumer reporter for KNXT, which is now CBS2. beginning in 1969.
He went on to be a   host of the program, It Takes All Kinds. His producer Joe Saltzman says the show was the first to portray gays and lesbians as normal people.
He also was a play by play man for the North American Soccer League and a big advocate of allowing girls to play in youth soccer.
"Without Mario Machado's strong voice, school girls today would not be playing AYSO soccer," said Barbara Begyud.
You can read more about this pioneer journalist's life on CBS LA