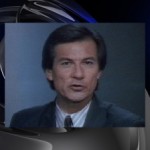 The first Asian American TV newscaster in Los Angeles and eight time Emmy winner  Mario Machado is dead at the age of 78.
His daughter confirmed to the Hollywood Reporter that he died Saturday in a convalescent home of complications of pneumonia
An article posted last night on AsAmNews recapped his career as a TV newscaster beginning in 1967 at KHJ(now KCAL) and KNXT (Now CBS2) and his career as a television host and broadcaster in the North American Soccer League.
According to the Hollywood Reporter, he also had a long career in Hollywood appearing in such movies portraying news reporters or anchors in three Robocop movies, Rocky III and Scarface.
He also snagged various roles in Mission: Impossible, Brian's Song. Banacek, Wonder Woman, Barnaby Jones, The Rockford Files, Simon & Simon and Beverly Hills, 90210.
You can read more about Machado's life in the Hollywood Reporter
http://j.mp/12ac2Xb