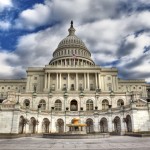 The so called Gang of Eight is expected to turn over its immigration reform package to the Senate Judiciary Committee on Thursday, reports the  Daily Sundial.
The senate bill differs in many key areas from the White House plan. It puts a greater emphasis on border security and includes a guest worker program for low skilled and farm workers.
The senate bill also speeds up green cards for those eligible for the Dream Act, yet limits visas for family members to immediate family.
Some complain the immigration bill gives little reason for hope for those who have already lost it.
"My friends are living day by day, they feel like they don't have a future," Seokwon Jason Yoon,said. "That was my life before (the deferred action program), but I think that's going to be my life until things change."
You can read about immigration reform from a college educator's perspective in the Daily Sundial.