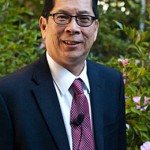 A panel of Asian American Pacific Islander college presidents joined in a panel discussion entitled "Shattering the Myth: Asian Pacific Americans Can't Lead."
According to Diverse Issues of Higher Education, AAPIs make up just 1.5 percent of the college presidents in the nation. That's the exact same percentage as 25 years ago.
The panel was part of the annual conference of Asian Pacific Americans in Higher Education (APAHE) held in San Francisco.
Santa Rosa Junior College president Frank Chong (pictured here) moderated the panel and noted many of today's AAPIs leading colleges and universities came from different career paths.
"It's safe to say these presidents were willing to take risks and try new opportunities." said Chong.
Dr. Lori Adrian president of Coastline Community College acknowledged that racism still exists, but urged those in attendance to overcome that barrier.
"We have self-limiting barriers too. Don't worry about not landing an interview. You won't get a job if you don't apply for it."