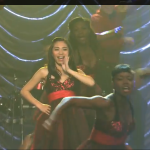 Pop/R&B singer  Jessica Sanchez promises fans will see her "strutting her stuff " on the season finale of Glee, reports the Hollywood Reporter.
A video released previewing Thursday's Glee shows her doing a musical number accompanied by nearly a dozen men who fawn on the diva like she's Britney Spears.
The video includes a comment from fellow Filipino American Darren Criss.
Says Sanchez, "I'm ready to kill it for Glee and all the Gleeks out there."
You can watch the video on Hollywood Reporter.