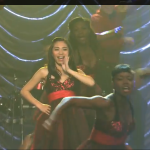 Jessica Sanchez finally made her much publicized appearance on Glee Thursday night.
She sang two songs playing diva Frida Romero from a rival high school choir.
Sanchez performed  Zedd's "Clarity" and Little Mix's "Wings"
ABS CBN reports she tweeted "This was such an incredible experience. Thank you @MrRPMurphy for letting me be a part of it! #gleefinale,"
"(& thanks to all of the #BluJays and #Gleeks who tuned in. This was a dream come true. Xo #gleefinale,"
In case you missed it, you can see bits of it in a preview sent out by Fox.
Did you watch it? Tell us what you think.