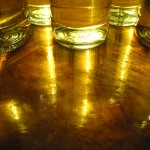 Graduation, prom and the end of the school year are all excuses for underage youth to abuse alcohol.
According to Sampan, a new survey of teens, underage drinking is common and alcohol easy to get. The survey was conducted by Boston Asian Youth Essential Service, an agency based in Chinatown.
The students have launched the "Hey You Sticker Shock campaign to educate both youth and local businesses about the dangers of underage drinking. The "hey you" stickers are placed on cases of beer, at restaurants, convenience and grocery stores reminding people it's illegal to sell or serve alcohol to anyone under the age of 21.
Asian Youth Essential Service has also launched a blog designed to reach teens and educate them about the consequences and danger of underage drinking.
You can read more about the Sticker Shock program in Sampan.