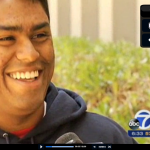 18-year old Senior Ritankar Das(seen here courtesy ABC7 News) has been named the University of California at Berkeley's top graduating senior.  The University Medal winner has also won more than 40 awards totaling $300,000.
He will have attained his diploma in three years with a double major in bioengineering and chemical biology and a minor in creative writing.  The Indian American is the youngest University Medal winner in Berkeley history.
He also founded See Your Future two years ago, an outreach program for those students especially living in under erved communities.
"Every young person can change the world," Das said. "It's just that as a society we have to acknowledge that and we have to give them ways to show that."
You can read more about Das on ABC7 News.