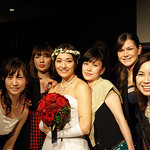 15 percent of the marriages in the United States these days are multi-racial and inter-ethnic, according to NPR.
The family of Larry Bright is becoming more of a norm. He is African American. His wife is Vietnamese American.  They have two children.
A lot of people assumed the mother was the nannie. Then one day the two year old went into a tantrum screaming she wanted light skin like her mother.
"I froze because I thought, 'What did I do wrong? I never pointed any of these things out,'"mom  Thien Kim Lam, says. "So that was a big lesson for me; you can't not talk about race."
For the first time in history, the census allows families to check more than one race. About 9 million people, or 3 percent of the country chose to check more than one box.
Surveys show that 66 percent of the country say they're fine with interracial marriages. That number increases to 80 percent when you ask people under 40.
You can read more about the evolving perspectives on interracial marriage on NPR..