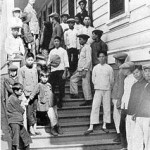 Secretary of Interior Sally Jewel reiterated the National Park Service's commitment to documenting the rich history and culture of Asian Americans and Pacific Islanders, reports the Marianas Variety.
"From Angel Island (pictured here courtesy California State Parks) where more than one million Asian immigrants arrived on these shores, to the Chinese immigrants who helped build the railroads across the country, to the Japanese American internment camps of World War II, these stories are all important threads in the great American tapestry." Jewel said in a statement.
The  Park Service recently announced it was launching over the next 18 months a new Asian American Pacific Islander Theme Study. It's part of an effort by the Obama Administration to recognize the contributions of women and minorities which have not fully been recognized in the past.
"This is a pivotal moment for our community —the National Park Service AAPI Theme Study is an invitation for all of us to share the incredible contributions we have made to our country's rich cultural and natural heritage, said Assistant Interior Secretary for Policy, Management and Budget Rhea Suh.  I am proud and honored to be part of Interior's efforts to build a department that reflects the needs and diversity of America and look forward to continuing this conversation."