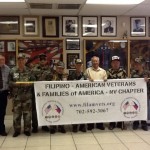 They risked their lives fighting for a country that won't give them recognition for their service. But they fight on, hopeful that one day their country will believe them.
That hope comes in the form of a new bipartisan bill from Rep Colleen Hanabusa (D-HI) and Senator Dean Heller (R-NV), reports ABS CBN. The bill sets up an appeal process in which the Filipino American World War II vets could appeal their benefits denial.
"We fought for freedom. I think Filipinos deserve a little compensation," 89-year-old Lourdes Poblete said.
More than 18,500 have received lump sum benefits for their service. Those soldiers were Filipino nationals recruited by the United States to support the war effort during World War II. The benefits came after decades of denials and protest. But 24,000 were denied their benefits because their service could not be confirmed after fire destroyed many records.
The Filipino Veterans Promise Act sets up an avenue in which their records could be examined and verified by military historians.
You can read more about the act in ABS CBN
The new legislation called The Filipino Veterans Promise Act gives these veterans the chance to have their records examined and verified by military historians, so they can receive benefits.