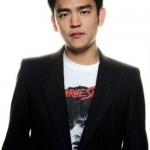 Actor John Cho says he's down for Harold & Kumar 4, reports the Hereford Times.
This time Cho sees the zany pot smoking pair as having children, but being as irresponsible as the first three movies.
The Korean American actor has played Harold Lee with his sidekick Kal Penn as Kumar Patel in three installments of the Harold & Kumar serial.
"I'm in. Let's do it! I want to see Harold and Kumar with kids – kids and being irresponsible," he joked
Meanwhile, Star Trek Into the Darkness opened in theaters this weekend.
Cho plays Sulu in the latest movie reincarnation of the TV series and the second directed by JJ Abrams.
You can read more about Cho's take on Star Trek in the Hereford Times.