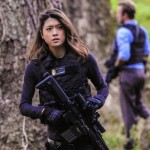 Grace Park who plays Kono Kalakaua on Hawaii Five-O is the only female cast member of the crime fighting team who regularly kicks butt.
There's no waiting for some guy to come rescue Kono. This anti-crime tech expert can take care of herself, thank you.
"They always come a beat late and it's handled," says Park to the Vancouver Sun. "And I think that's sort of the signature of the show."
That's quite a difference from the way Park sees herself–someone who can be silly, reserved and not wanting to bring attention to herself.
She met a reporter from the Sun for an interview in an isolated part of town, but could not escape from being recognized. Working on a small island certainly has its benefits. But one of them certainly isn't anonymity.
'Look at me.' Park says. "If someone said, "you have to be in a drama, you have to say one line," I would have been mortified."
   You can read about how she got the part in Hawaii Five-O and got her start in acting in the
Vancouver Sun
.