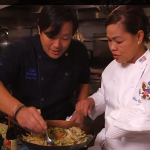 First Lady Michelle Obama has made healthy living a cornerstone of her stint as America's first lady.
As part of the first lady's initiative, a White House chef joined together with fellow chef Ming Tsai and the White House Initiative on Asian Americans and Pacific Islanders to release a video on healthy eating and Asian cuisine, reports KC Infozine.
One easy tip is to mix brown rice with white rice. Brown rice is considered much healthier, but less tasty than white rice to both children and adults. Mixing the two rices 50-50 is both tasty and healthy, according to Tsai and White House chef Cristeta Comerford.
They also suggest using a vegetarian oyster sauce and rice vinegar to replace sodium.
"Cultural and taste preferences are important, and this MyPlate video reminds us that we can enjoy our traditional foods prepared in healthier ways. USDA is committed to empowering Americans to make healthier food choices by providing science-based information and advice, through tools such as MyPlate and the Dietary Guidelines for Americans," said Agriculture Secretary Tom Vilsack.
You can watch the very entertaining 11 minute video on KC Infozine.