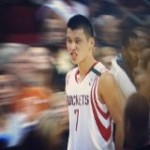 CSN Houston's Howard Chen  continues his 1-1 interview with Jeremy Lin. Today he talks to Lin about being a role model.
"It's different. The one thing I'll say is I really have the best fans. The most passionate and enthusiastic and diehard fans, said Lin. "Every month, every day that goes by I appreciate it more and more. It's just a matter of being who I am and being a role model for other people."
Lin tips his cap to the first Asian American ever to play on an NBA Team. Wat Misaka played for the New York Knicks in the 1947-1948 season after serving in the military and taking the University of Utah to the 1944 NCAA Championships and 1947 NIT Championships.
"We always have to give credit where credit is due and appreciate people who came before us," Lin said. "Because people like him, he gave people like me a chance. People talk about how I've been a trailblazer or whatever I may do to help the future or whatever. But he was the one who came first, so for me to be able to meet him was a tremendous, tremendous honor."
You can see Chen's interview with Lin on CSN Houston.
And you can check out AsAmNews' interview with Chen on his thoughts on Lin's past and future here.