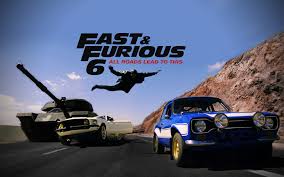 Justin Lin's Fast & Furious 6 took in an estimated $98.5 million dollars at the box office this weekend, ranking number one in weekend ticket sales, according to Digital Spy. Fast & Furious 6 is the fourth and final movie Lin has done of the franchise.
The Asian American director is credited with reinvigorating the franchise and turning it into a huge box office hit. Fast & Furious knocked off last week's winner, Star Trek, which fell to third place with $38 million.
Hangover 3 with Ken Jeong placed second at $42 million.
You can hear an interview with Fast & Furious stars Vin Diesel, Paul Walker and director Justin Lin in Digital Spy.
Lin looks ahead to upcoming projects in Variety.
He also talks about how he removed stereotypes of Asian Americans from Fast & Furious here in ONTD.