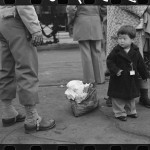 Much has been written about the heroic Japanese Americans who volunteered in the Armed Forces during World War II to defend the same country that sent them to incarceration camps.
But far fewer have heard about the 5,000 incarcerated Japanese Americans who volunteered to fight for the United States in the Korean War.
Tsutomu Takahata was one such Japanese American, reports Newsnet5.com,
Takahata spent his teen years behind barbed wire and did not volunteer to fight in World War II presumably because he was too young.
"He overlooked the prejudice and bitterness of the period when his family spent years in the intern camps," Ray Spannhauer said of his father-in-law. "He had a great passion for this country and what it represented."
231 Japanese Americans died fighting for the United States in the Korean War.
You can read more about Takahata's story in Newsnet5.com, Unfortunately the reporter described the incarceration camps as a place where Japanese Americans were "housed" during World War II.  Despite that, its worth reading to learn more about the role of Japanese Americans in the Korean War.