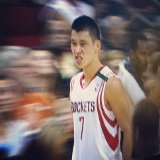 A blog by David Kenyon in the Bleacher Report suggests the Houston Rockets would be better off trading Jeremy Lin (photo by Howard Chen).
Kenyon points out that back up point guard Patrick Beverly played well during Lin's absence in the playoffs. In fact he says the Rockets went 2-0 without Lin.
He failed to mention, as have so many other bloggers, that the Rockets only won those games after Oklahoma City point guard  Russell Westbrook was also out due to injury.
Most observers says the core of the Rockets are the trio of James Harden, Jeremy Lin and Chandler Parsons. Kenyon leaves Lin off that list, replacing him instead with Omer Asik.
The Rockets need a big man if they are going to advance further than the first round in the playoffs. Kenyon thinks the only way to do that would be to trade Lin.
The Sporting News reports Lin could be traded to the Los Angeles Lakers for Dwight Howard, but Kenyon predicts a likely scenario might be the Dallas Mavericks.
Read Kenyon's blog and let AsAmNews know what you think. Should the Rockets trade Jeremy Lin?