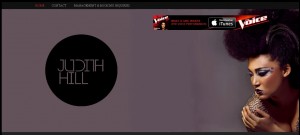 Former frontrunner Judith Hill has been eliminated from the Voice, reports the LA Times.
Hill is best name for singing a duet with Michael Jackson.  Her elimination came as quite a surprise as she had been lavished with praise by the judges.
Some speculate she was eliminated in a backlash by fans against the judges or perhaps fans thought she would be safe and voted to protect other contestants.
The  Mercury News thought she might have been eliminated because she had chosen to take a risk in this week's show.
Also eliminated this week was Sarah Simmons.
What do you think? Who should have been eliminated from this week's competition?