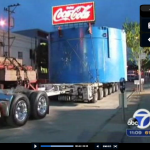 Mom Chung is one big bore. No, that's not a statement on Chung's personality. It's the truth.
Mom Chung is the name given to the tunnel boring machine that will begin digging the long awaited Central Subway into San Francisco Chinatown.
KTVU reports that city officials toured the tunnel site Thursday before signing their names on the machine.
It will be a long laborious process. Mom Chung is expected to dig 40 feet a day for ten months to create a 1.5 mile tunnel.
It is named after Dr. Margaret "Mom" Chung, the country's first Chinese American women doctor.
It was given its name via an online poll.
You can read more about the tunnel project in KTVU.